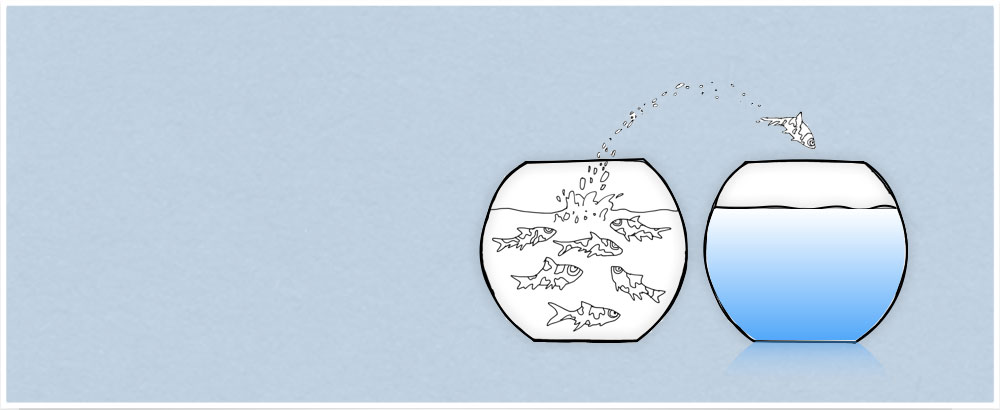 Next Generation PIM
Easier, Better, Faster, Cheaper.
Triniti's Global Product Maintenance software makes it an easy and error-free way to create and maintain Product structures in Oracle Cloud and EBS.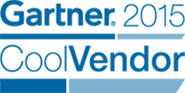 Cool Vendors in Information Governance and MDM, 2015, G.De Simoni, R. Edjlali, S. Judah, B. O'Kane, A. White, 30 March 2015
Disclaimer : Gartner does not endorse any vendor, product or service depicted in its research publications, and does not advise technology users to select only those vendors with the highest ratings or other designation. Gartner research publications consist of the opinions of Gartner's research organization and should not be construed as statements of fact. Gartner disclaims all warranties, expressed or implied, with respect to this research, including any warranties of merchantability or fitness for a particular purpose.

TPM software supports Oracle Cloud Platform
With TGPM, Gain 80% productivity improvements and 100% accuracy. While Oracle and other ERP's consider Products, Bills of Material, Routings, Resources, and Sourcing Rules as different entities, TGPM considers all of them as a single entity
The screenshot below illustrates a semiconductor supply chain bill of material with multi-segment flexfield. It provides complete supply chain visibility.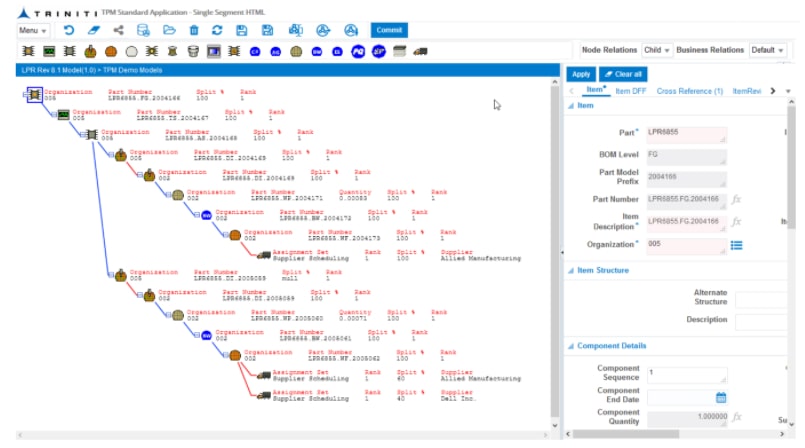 For a quick demonstration of key differentiated features CLICK HERE.
As an Oracle ERP user, you labor through multiple screens to enter a simple supply chain. While the Oracle Cloud version uses a single screen for product and structure (BOM), you have to have the component created before you attach it to the parent, effectively navigating multiple screens. For multi-org structures, you still have to change the inventory organization. After all that labor, your confidence in data accuracy is still low.
As a result, you may experience some or all of the following symptoms of bad data quality:
Inaccurate Oracle ASCP or Supply Planning Cloud Plans

Untrustworthy Business Intelligence (BI) reports

Operation reports massaged manually in Excel

Items shipped to the wrong destinations

Customer invoices with errors

Excessive credit and debit memos

Large manual Journal entries in General Ledger

Inability to automatically perform 3-way match for supplier invoice payments
Most likely, you use Alerts and reports to validate the accuracy and completeness of data. You are probably used to this daily routine and assume it is part of using Oracle. It does not have to be. They lead to inefficiency and constant firefighting. It costs you time and money daily, and you probably do not even know it.
Solution
TGPM is designed and validated by end-users. Thanks to TGPM, they spend more time on operations than worrying about data. The following differentiated features enable error-free and efficient creation of the complete supply chain data:
Feature
TGPM
Oracle ERP Cloud
On-Prem EBS
Single Screen Data Entry

Multi-org Item/Product (attributes, descriptive flexfields, categories, and catalogs)
Multi-level BOM (Bill of materials) / Product Structure built top-down
SR (sourcing rules including assignment sets)
Routings/ Work Definitions, Resources, and all the associated attributes

Single Screen for Product and single-level BOM (structure)
Require changing inventory organizations for creating a multi-org structure
The multi-level structure has to be built bottom's up which is not intuitive
No Sourcing rules

Separate screens for Item, BOM, Routing, Resources, Sourcing Rules
Require changing inventory organizations for creating a multi-org structure

Templates
Global template for Product, Structure, Descriptive Flexfields, Work Definition, Resources
Only for Products within the context of the organization
Only for Items within the context of the organization
Creation of products/ items in the master organization
Automatic
Manual
Manual
Default Values (not including Templates)
For all fields for all the entities
Only for Products using Item Class
Only for certain fields through item status
Default Value Override (not including Templates)
Controllable for all fields
Only for some fields
None
Inheritance
For all fields at all levels in the hierarchy
Only Item Class Metadata from Parent. Not values
None
Governance
Automated. The features listed above help 100% compliance
Manual and error-prone. Autonumbering for Product is available
None
Workflow
Fully configurable, complete workflow capabilities for Product Data Management
Some/ limited capabilities for lifecycle changes and new Product requests
None
Field-level-security
Most granular
Medium
Poor
TGPM used to be called Triniti Product Modeler (TPM). It will now be TGPM as the Oracle Cloud ERP does not support Sourcing rules that make them global for costing and execution as of release 20D. The following diagrams map the structures in TGPM and Oracle Cloud. While you cannot see the inventory organizations in the Oracle diagrams, each diagram is in a different organization.