Triniti has a robust and two-decade-long history of dealing with complex business data.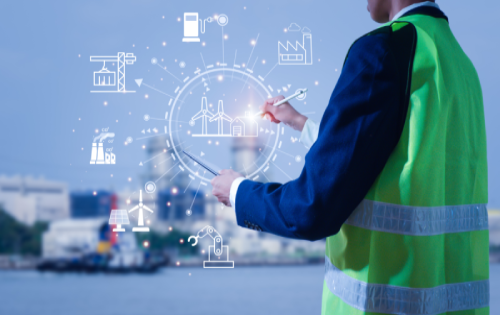 With the advent of Industry 4.0 and Triniti's strong intent to help the customer integrate business data and operations data, Triniti has ventured into value-adding Industrial Internet of Things (IIoT) solutions. Triniti strongly believes in delivering value through IT-OT integration. With Triniti's proven track record in the business data space, IT-OT integration can help quickly realize the importance of Industry 4.0 solutions to its customers.
Triniti has identified some use cases that can benefit its customers in the immediate future, e.g. Energy Monitoring, Overall Equipment Effectiveness (OEE) Monitoring, exceptional cases of Oil Condition Monitoring, etc.
Energy Consumption Monitoring is one of the critical challenges for any manufacturing business. Electricity cost in most of the manufacturing processes is a significant contributor to the overall operational cost. Our Energy Management Solution lets customers optimize energy consumption
and enhance operational efficiency.

Smart Energy Management Solution Benefits
---
| | |
| --- | --- |
| | Eliminate Inefficiencies |
Monitor energy consumption and demand across specific areas, plants and equipment

Eliminate energy leakages by identifying inefficient systems/ appliances
---
| | |
| --- | --- |
| | Prevent Penalties |
Peak demand analysis

​Reduce Time of Day tariffs and penalties due to excessive reactive energy/ PF
---
| | |
| --- | --- |
| | Improve Power Quality |
Monitor phase imbalances and power quality (frequency & power factor)

Identify voltage/ current fluctuations
---
| | |
| --- | --- |
| | Real-time Alerts & Reporting |
Alerts on threshold breaches. Configurable alerts for critical energy parameters conditions

Custom analytics based on AI/ ML with smart reporting
---
| | |
| --- | --- |
| | Meeting Goals & Compliance |
Identification of areas of energy waste and higher costs

Energy KPIs & OPEX monitoring
---
Features of Energy Management Solution
Real-time energy data monitoring and control

​Integrate multiple energy parameters

Obtain data charts and visualizations to identify operational inefficiencies and mitigate them by taking strategic actions

Advanced data analytics gather data and process it to develop energy consumption patterns, compare historical consumption, and predict future energy needs
---
| | |
| --- | --- |
| Download Energy Management Solution Brochure | |